Einleitungstext
Enabling biobanking to empower research
Facing an ever-increasing demand, biobanks empower clinical, pharmaceutical, and basic research to increase our understanding of complex diseases by delivering the right resources, to the right researcher, at the right time. PerkinElmer enables biobanks to serve their customers' needs by developing complete, validated workflow solutions providing high quality nucleic acid extraction, automation with flexible throughput, and sample process traceability ensuring the accurate identification of samples.
Einleitungstext
Uniquely positioned to revolutionize biobanking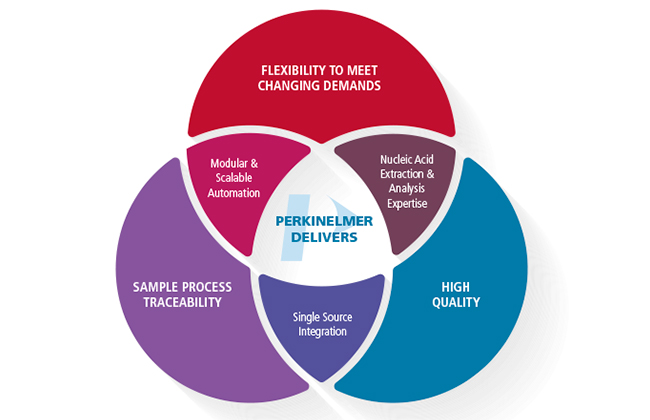 PerkinElmer is uniquely positioned to enable biobanks to empower research with high quality nucleic acid extraction and QC and analysis solutions, modular and scalable automation, and sole source integration, delivering the flexibility biobanks need to meet their changing demands.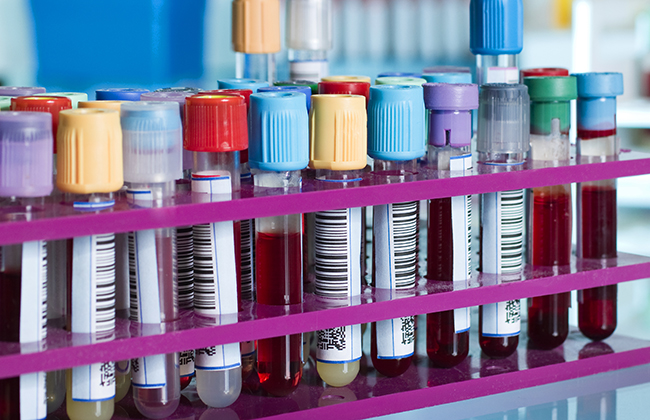 Input Agnostic Nucleic Acid Extraction
Since the samples collected by biorepositories can be extremely diverse, the ability to isolate nucleic acids from an extensive range of sample types and volumes is critical. With the ability to extract nucleic acids from 10 μL to 10 mL of input samples, PerkinElmer's chemagic™ reagents and automation solutions are agnostic for both starting materials and type of nucleic acid extracted.
Blood, Buffy Coat, DBS
Saliva, Swabs, Cells
Tissue/FFPE
Urine, Stool, and many more
Technology
PerkinElmer's exclusive chemagic™ technology for nucleic acid purification
Nucleic acid quality is of major importance when conducting molecular analysis since factors causing degradation, presence of impurities, and enzymatic inhibitors, and long-term storage can have a significant impact on the quality of data. PerkinElmer's chemagen™ technology addresses the challenges associated with extraction while offering high recovery of clean nucleic acids suitable for long-term storage and a variety of demanding downstream applications. The shaking and centrifugation steps typically resulting in nucleic acid denaturation and fragmentation are avoided with chemagen™ technology. This automated magnetic separation procedure uses chemagen™ M-PVA magnetic beads to isolate and purify nucleic acids from sample materials. The beads have a high affinity for nucleic acids and low inhibitor binding, resulting in ultra-pure DNA and RNA. chemagen™ technology features magnetizable rotating rods, combining the transfer and suspension of magnetic beads to extract DNA, preventing further fragmentation. There are optimized protocols available for high molecular weight DNA as well as for cell free DNA (cfDNA). The nucleic acids isolated are compatible with a wide range of downstream applications including NGS, PCR, and MLPA.
chemagic™ 360 instrument specifications
Dimensions and weight:

80/80/90 cm (W/D/H)
Weight: 140 kg
chemagic™ Prime™ instrument features
Designed to prevent cross-contamination
Automated barcode reading for full sample traceability compatible with your LIMS system
Proven nucleic acid purification technology and protocols
High sample capacity: process up to 192 samples in a single run
Optimized reagent dispensing to lower running expenses by decreasing the cost per sample
Flexible sample volume range from 10 µl to 10 ml
Automated liquid handling of primary samples
User-friendly interface for easy installation in your lab
For research use only. Not for use in diagnostic procedures.