Metagenomic Analysis
Improving the Efficiency of Metagenomic Analysis of Stool Sample
Understanding the abundance, distribution, collective gene expression, and function of microbiota provides intricate insights into an individual at a specific time. Gut bacteria play an important role in human health as changes in the microbiome can be potentially harmful, often linking to chronic conditions such as inflammatory bowel disease, obesity, cancer, and autism. NGS technologies deliver the detail necessary to characterize microbial communities, providing information about the genetic profile, population structure, and role of microorganisms within a given sample.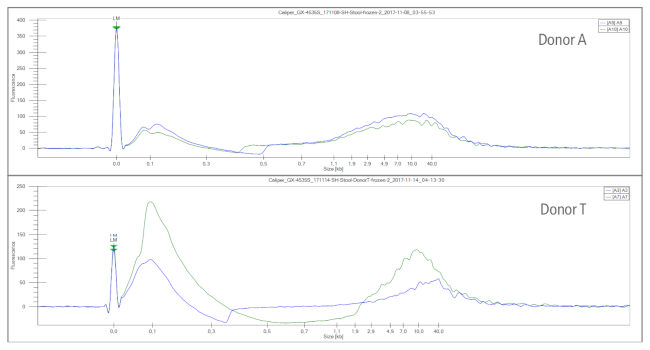 DNA gQC was determined using the LabChip® GX Touch nucleic acid analyzer and the genomic DNA chip and reagents
Donor A and Donor T show relatively high quality scores (gQS: 3,7/ 3,9 and 4,2/ 4,7).
The chemagic™ nucleic acid purification workflows for Metagenomics
Our nucleic acid purification workflows, consisting in the combination of the chemagen's proprietary M-PVA Magnetic Beads and chemagic™ instruments, provide the reliable isolation of high yields of ultra-pure DNA and RNA. With a vast assortment of kits optimized for the extraction of nucleic acids from many different sample types, the chemagen DNA and RNA purification workflows are ideal for the needs of Metagenomics. Please contact us to learn more.
For research use only. Not for use in diagnostic procedures.
Please note that product labelling (such as kit insert, product label, and kit box) may be different compared to the company branding. Please contact your local representative for further details.