Automated miRNA Purification
Automated microRNA purification minimizes hands-on time for qPCR & NGS workflows
Liquid biopsies have shown to be important sources for markers to help detect cancer in its initial stages. Markers such as circulating cell-free DNA and RNA (cfDNA and cfRNA), circulating tumor cells (CTCs) and exosomes have shown to be useful. Analysis of microRNA (miRNA) in plasma samples opens a wide range of interesting information for many research applications. They play roles in both homeostasis in healthy individuals and diseases such as cancer, diabetes, in addition to cardiovascular and kidney pathologies. The isolation of miRNA represents a significant challenge due to low concentrations, small fragment sizes of about 19-22 nucleotides (nt) and furthermore, miRNAs are often bound in protein-complexes contaminating proteins or inhibitors.
In this application note, we demonstrate the efficient automated isolation of high-quality miRNA from plasma using our chemagic miRNA 200 Kit H96 and chemagic™ miRNA 1k Kit H24 on the chemagic 360 instrument.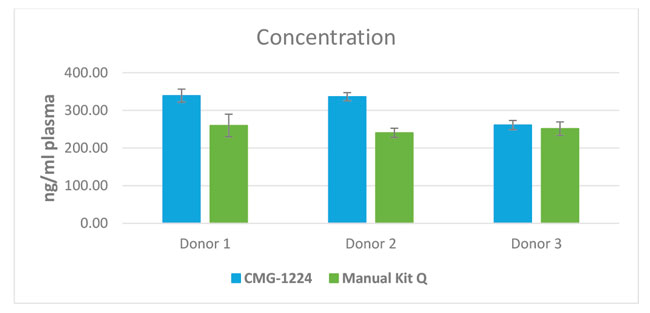 Comparable yields of miRNA extracted with the chemagic miRNA kits compared to a competitor kit
miRNA was isolated from 0.2 ml from three different donors with the chemagic kits on the chemagic 360 instrument and manually with competitor Q.
Product Overview
chemagen developed two chemagic miRNA kits for the isolation of miRNA from 1.0 ml and 0.2 ml plasma with the chemagic 360 instrument. The chemagic miRNA kits are based on chemagen technology using M-PVA Magnetic Beads for the isolation of miRNA. The miRNA binds to paramagnetic beads, which are magnetically separated from the sample material. During subsequent steps, contaminants are removed, and the purified miRNA is transferred into an elution medium. The automated sample processing by the chemagic 360 instrument excludes cross contamination and ensures safe handling of infectious sample material.
For research use only. Not for use in diagnostic procedures.
Please note that product labelling (such as kit insert, product label, and kit box) may be different compared to the company branding. Please contact your local representative for further details.