Automated Nucleic Acid Isolation from bovine liver
A robust and high yield DNA extraction protocol from bovine liver utilizing the OMNI Bead Ruptor Elite™ Bead Mill Homogenizer in combination with automated extraction on the chemagic™ 360 Nucleic Acid Extractor
The processing of human and animal tissue samples for molecular analysis has become a cornerstone of research efforts across a multitude of disciplines. In particular, the processing of soft tissues, such as liver samples, is proving critical for everything from drug development research to anatomy research examining embryology and stem cell development. Nucleic acid extraction is one of the commonly performed processes employed when preparing these samples for downstream analysis, allowing researchers to produce high qualities and quantities of DNA and/or RNA from their samples.
In the following application note,  we demonstrate the utility of OMNI Bead Ruptor Elite™ Bead Mill Homogenizer in combination with the chemagic™ 360 instrument for a robustly reliable workflow resulting in high qualities and quantities of DNA from bovine liver samples. This protocol prescribes a complete workflow from sample lysis through automated DNA extraction with a focus on complete sample homogenization and reliability in comparison to enzymatic lysis.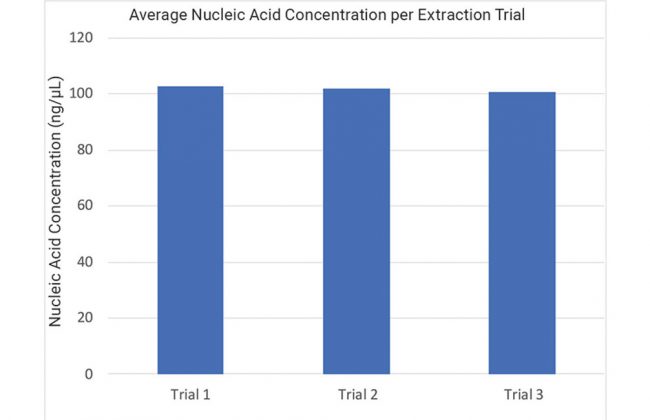 Automated nucleic acid isolation from bovine liver
Average nucleic acid concentration per trial as shown in ng/µL
Each trial had the complete concentrations averaged and statistically evaluated (see methods section on application note).
For research use only. Not for use in diagnostic procedures.
Please note that product labelling (such as kit insert, product label, and kit box) may be different compared to the company branding. Please contact your local representative for further details.