Kits for cfDNA purification from high volumes of plasma
The chemagic™ cfDNA kits for high volume cfDNA purification from plasma are designed for the processing of 6 - 10 ml, 15 ml or 18 ml plasma with minimal hands-on time on the chemagic™ 360 instrument . The kits are designed for use with human plasma samples derived from EDTA, citrate or Streck® Cellfree DNA BCT® tubes. In addition, fresh and frozen plasma can be used.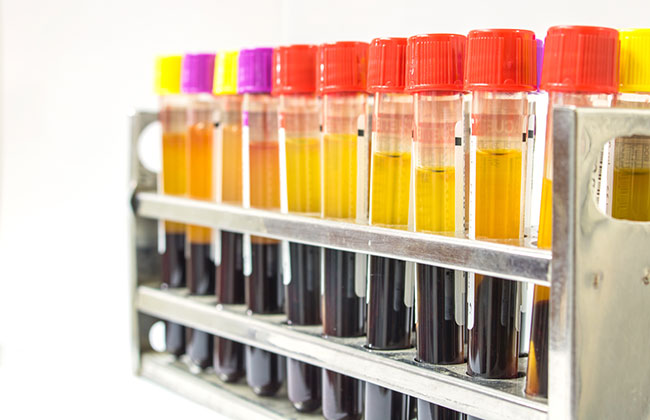 Kit features
Designed for use with the chemagic™ 360 instrument for high-throughput cfDNA purification
Proprietary technology  based on the use of M-PVA Magnetic Beads for optimal nucleic acid yield and purity
Disposable plasticware included
Convenient packaging to reduce reagent waste
Reagents can be stored at room temperature
1 - 30 ng cfDNA/ml plasma
Please find below a selection of available kits for cfDNA isolation from high volumes of plasma (6 to 18 ml) using chemagic™ instruments, or a manual procedure. For different sample volumes please refer to the kit selection page.
Kits for chemagic™ automation
Catalog No.
Kit Name
Instrument
Samples/
Batch
Preps/
Kit
Sample Volumes
Yield
Processing Time
Purchase online
CMG-1310*
chemagic
cfDNA 10k Kit H24
chemagic 360/MSM I
24
240
6-10 ml
1 - 30 ng/ml plasma (qPCR)
115 min
(incl. 20 min hands-on time)
CMG-1318
chemagic
cfDNA 18k Kit H12
chemagic 360/MSM I
12
Up to 250
10, 15 or 18 ml
1 - 30 ng/ml plasma (qPCR)
125 min
(incl. 15 min hands-on time)
*Additional accessories required: 3 quantity chemagic 13 mL Double Bottom Rack H24 (art. No. CMG-13005340)
Functional Principle
Functional Principle
The chemagic™ cfDNA for medium volumes of plasma are based on chemagic™ Technology using M-PVA Magnetic Beads. The cfDNA binds to paramagnetic beads which are magnetically separated from the sample material. During subsequent steps contaminants are removed and the purified cfDNA is transferred into an elution medium. The automated sample processing by the chemagic™ 360 instrument excludes cross contamination and ensures safe handling of infectious sample material.
Plasma Preparation Protocol
Plasma Preparation Protocol
It is recommended to prepare plasma as fresh as possible (max. 5 days after blood draw). Longer storage of blood prior to plasma preparation may lead to poor separation results and higher background from genomic DNA.
A double centrifugation protocol during plasma preparation is recommended to minimize the potential for contamination of plasma with cells and genomic DNA. Transfer of any other blood components (buffy coat or red blood cells) should be avoided while separating the plasma fraction.
Please refer to the tube manufacturers specifications (max. centrifugation speed) for more information.
From 10 mL of whole blood approximately 4 - 5 mL plasma can be expected.
Centrifuge whole blood collection tube at 2000 x g for 20 minutes.
Aspirate plasma carefully and at least 2 - 3 mm above the buffy coat layer, without disturbing the layer and transfer it into a new appropriate tube.
Centrifuge the plasma sample at 3300 x g for 30 minutes.
Carefully transfer the supernatant to a fresh tube without disturbing the pellet, at least 2 - 3 mm above the pellet.
For direct use storage of plasma sample at 2 - 8 °C is possible, for long-term storage -80 °C is recommended.
For research use only. Not for use in diagnostic procedures.
Please note that product labelling (such as kit insert, product label, and kit box) may be different compared to the company branding. Please contact your local representative for further details.