chemagic Prime Junior-D instrument for IVD workflows
chemagic™ Prime™ Junior-D instrument
High-Quality DNA and RNA For Your Assay - The chemagic Prime Junior-D instrument enables a streamlined workflow from primary sample to ready to use high-quality DNA and RNA. Eluate handling such as transfer to storage tubes is included, moreover assay setup for downstream workflows such as PCR and NGS can also be incorporated. Flexibly run between 1 to 48 samples (24 per batch) of 200 - 1000 µl body fluids without any waste of reagents.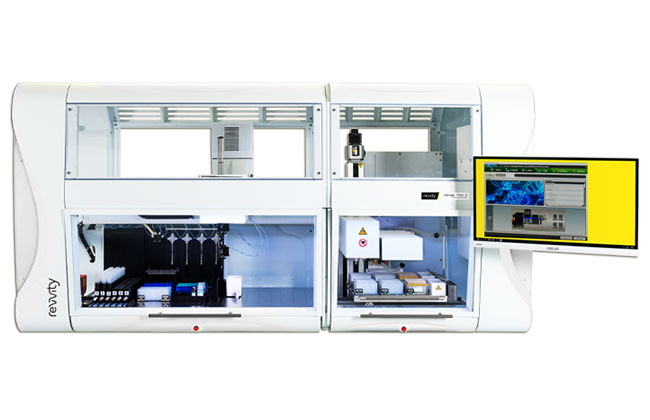 Features at a glance
chemagen

 separation technology for high-quality DNA/RNA

​

Complete workflow from primary sample to assay setup

​

Walk-away automation for up to 48 sample

Suitable for diverse human samples like blood, plasma, saliva, urine, 

swabs, feces, etc.

Customizable to your needs: Assay, PCR, NGS setup

Suitable for common downstream applications
CE-IVD certified in vitro diagnostic applications
Instrument specifications
No waste of reagents due to buffer dispensing according to the number of samples

​

Full traceability at any time during the process: 

Barcode tracking and LIMS compatible

​

Optional add-ons: UV light and 2D barcode reader

Size 1.9 m x 0.87 x 1.70 m (L/W/H)
* For research use only. Not for use in diagnostic procedures.
Products may not be licensed in accordance with the laws in all countries, such as the United States and Canada. Please check with your local representative for availability.
Please note that product labelling (such as kit insert, product label, and kit box) may be different compared to the company branding. Please contact your local representative for further details.